Navy And White Checkered Shirt With Gingerbread Trim
Regular price

$26.00
Sale price

$46.00
Care Instructions
Machine wash cold cycle, hang dry, iron low.
Fabric
Size Chart- Updated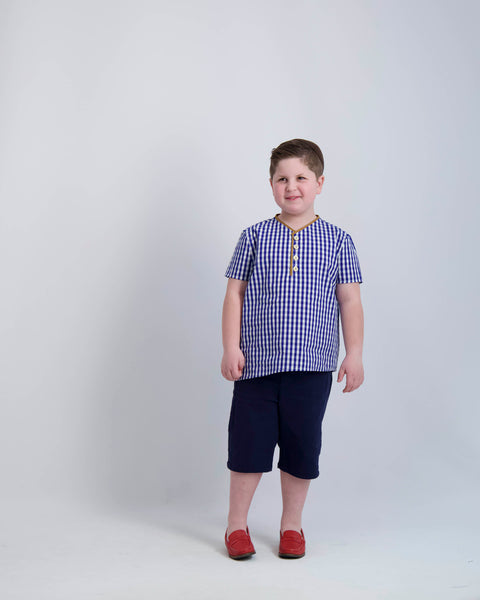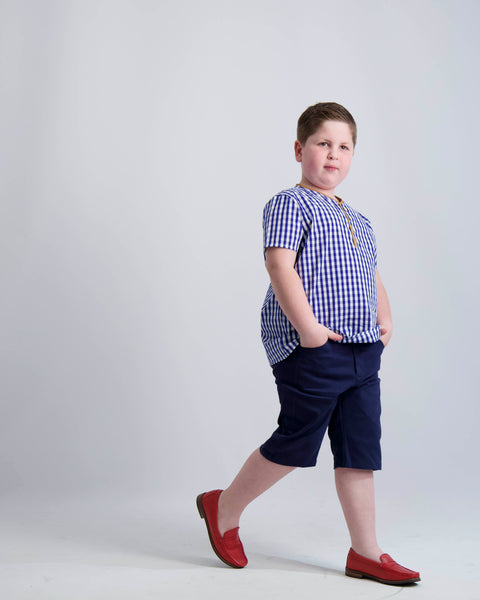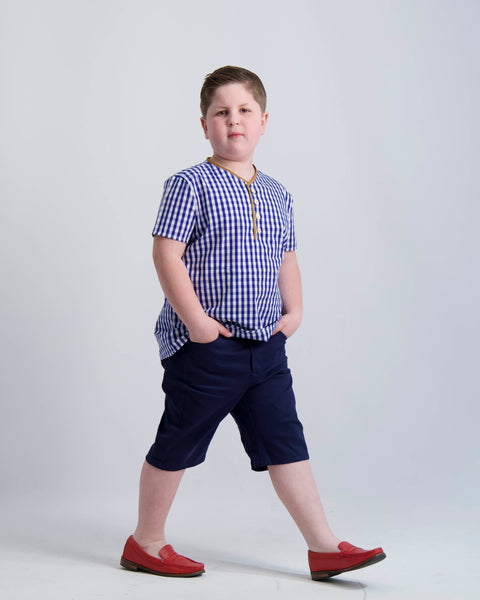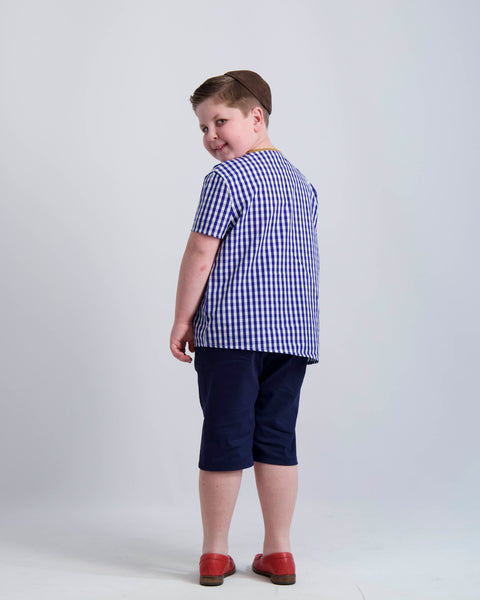 Buy it With
A classic navy checkered short sleeve shirt with gingerbread trim around the collar and matching gingerbread buttons. This shirt has a distinct asymmetric hem which can be worn both tucked in and untucked. 
Sleeves run slim, suggested to size up.
Wide sizes are 2 inches wider than regular sizes. See sizing chart for reference.
Model wearing size 10W.
Position   Size
(unit:CM)
6
7
8
10
12
14
16
Shoulder
31
32.5
34
35.5
37
38.5
40
1/2 Bust
36.5
39
41.5
44
46.5
49
51.5
1/2 Hem
39.5
42
44.5
47
49.5
52
54.5
CB length
45.5
47.5
49.5
51.5
53.5
55.5
57.5
Sleeve length
11.5
12.5
13.5
14.5
15.5
16.5
17.5
1/2 Armhole
16.25
17.5
18.75
20
21.25
22.5
23.75
1/2 Cuff
10
10.75
11.5
12.25
13
13.75
14.5
Back collar
14
14.5
15
15.5
16
16.5
17
Front neck drop
7.5
8
8.5
9
9.5
10
10.5
Position   Size
(unit:CM)
6 W
7 W
8 W
10 W
12 W
14 W
16 W
Shoulder
32.5
34
35.5
37
38.5
40
41.5
1/2 Bust
39
41.5
44
46.5
49
51.5
54
1/2 Hem
42
44.5
47
49.5
52
54.5
57
CB length
45.5
47.5
49.5
51.5
53.5
55.5
57.5
Sleeve length
11.5
12.5
13.5
14.5
15.5
16.5
17.5
1/2 Armhole
17.5
18.75
20
21.25
22.5
23.75
25
1/2 Cuff
10.75
11.5
12.25
13
13.75
14.5
15.25
Back collar
14.5
15
15.5
16
16.5
17
17.5
Front neck drop
8
8.5
9
9.5
10
10.5
11