Navy Tailored Dress Pants
Regular price

$80.00
Sale price
Care Instructions
Hand wash, hang dry, iron low.
Fabric
70% polyester, 30% rayon, 2% spandex

Size Chart- Updated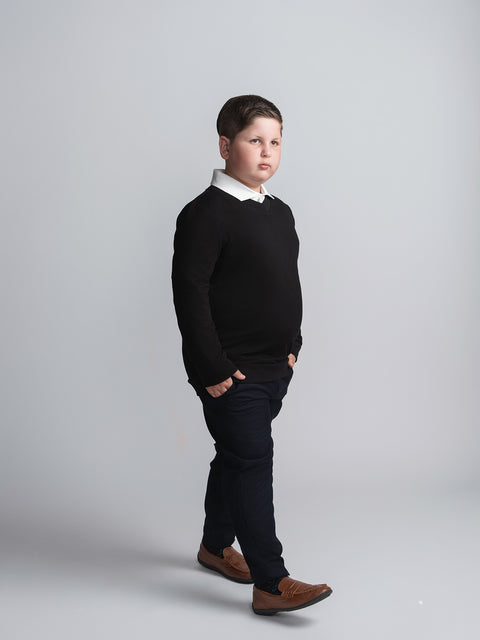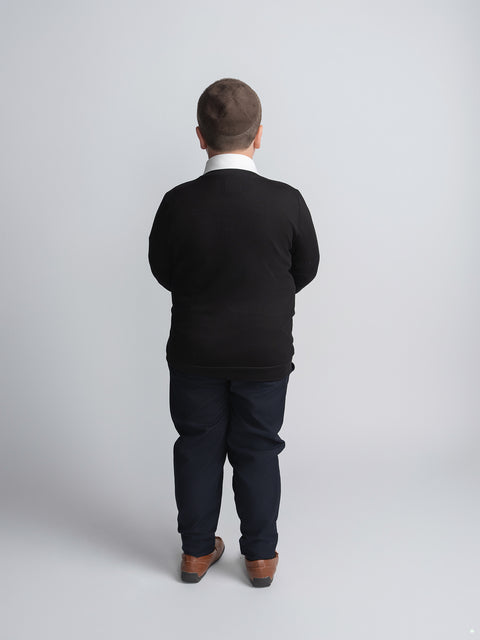 Our navy tailored dress pants for boys have a tapered slim leg and an adjustable waist line for the perfect comfort and fit. Dress these pants up with a white button down and V-neck sweater or pair with a polo for a more laid back look.
Runs slim, short sizes are more fitted by the ankle. Size up for a roomier fit. 
These pants do not have a matching vest or blazer.
There is a 2 inch hidden hem which can let down if need be.
Short sizes are 1 inch shorter on the inseam compared to regular sizes. Tall is 2 inches longer on the inseam compared to the regular size. See sizing chart for reference. 
Models all wearing size 14.
Position  

 

Size
(Unit:IN)
10
12
14
16
18
20
Length
29.72
30.91
32.09
33.27
34.45
35.63
1/2 Waist
16.14
17.13
18.11
19.09
20.08
21.06
1/2 Hip
16.54
17.52
18.50
19.49
20.47
21.46
1/2 Thigh
10.33
10.83
11.32
11.81
12.30
12.80
1/2 Leg opening
4.72
5.02
5.31
5.61
5.91
6.20
Front rise
7.28
7.68
8.07
8.46
8.86
9.25
Back rise
12.60
12.99
13.39
13.78
14.17
14.57
Position  

 

Size
(Unit:IN)
10S
12S
14S
16S
18S
20S
Length
29.72
30.91
32.09
33.27
34.45
35.63
1/2 Waist
15.16
16.14
17.13
18.11
19.09
20.08
1/2 Hip
15.55
16.54
17.52
18.50
19.49
20.47
1/2 Thigh
9.84
10.33
10.83
11.32
11.81
12.30
1/2 Leg opening
4.43
4.72
5.02
5.31
5.61
5.91
Front rise
7.28
7.68
8.07
8.46
8.86
9.25
Back rise
12.60
12.99
13.39
13.78
14.17
14.57
Position  

 

Size
(Unit:IN)
10T
12T
14T
16T
18T
20T
Length
31.69
32.87
34.06
35.24
36.42
37.60
1/2 Waist
16.14
17.13
18.11
19.09
20.08
21.06
1/2 Hip
16.54
17.52
18.50
19.49
20.47
21.46
1/2 Thigh
10.33
10.83
11.32
11.81
12.30
12.80
1/2 Leg opening
4.72
5.02
5.31
5.61
5.91
6.20
Front rise
7.28
7.68
8.07
8.46
8.86
9.25
Back rise
12.60
12.99
13.39
13.78
14.17
14.57